---
Wimbledon
May 1, 2019
Wimbledon 2019 will be like no other. That's just a fact.
It could be the coolest ever, and not just because there are so many great players, old and new, ready to do battle on increasingly equal terms.
Never before has continuous play been guaranteed on the two biggest show courts.
But the new retractable roof on No1. Court means that the big matches there and on Centre Court cannot be interrupted.
Not for long, anyway. If you're looking for a number, it's going to take eight minutes for that new roof to close.
Eight minutes to marvel at a thing of beauty, if the Centre Court roof is anything to go by, because the same company, SCX has been at work on No1 Court.
Some 5,500 square metres of No1. Court air space, covered in eight minutes by seemingly effortless, unfolding concertina.
And 220 electro-mechanical devices dancing to the tune of a control system capable of working to an accuracy of a fraction of a millimetre.
They make it quiet. They make it magnificent. New technology embracing history, in perfect harmony between old and new.
The tennis is getting like that too. Indeed, No1. Court can be seen as a symbol of our beautiful sport in 2019.
Back to the new roof for a moment. The membrane, made of Gora Tenara, is translucent, so you get a high level of natural light coming into the arena.
You don't have to be an engineer or stat-geek to dig this kind of wondrous transformation.
Eleven steel trusses span 75 metres across the top of the court to give the roof its reassuring stability.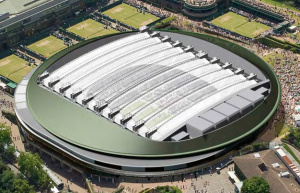 No1. Court Celebrations
And the whole, beautiful aerial shield is going to be on show above top performers Paloma Faith and Joseph Calleja on May 19 at a special No1. Court Celebration.
Above all, it is going to protect our beloved tennis from any rare and unwelcome intrusions by rain this summer.
Great tennis guaranteed. Starting with exhibition matches involving Wimbledon legends Martina Navratilova and John McEnroe on May 19.
The roof and air flow duly tested with more than 12,000 fans inside, No1. Court will be more than ready for action at Wimbledon 2019.
No1 Court was already super cool. Now it is going to be truly extraordinary. Just like the tennis.
Nothing, not even a wondrous new roof, can steal the limelight from the players. Because Wimbledon 2019 will surely be remembered for its tennis above all.
Remarkably, Roger Federer shows no sign of surrendering his superlative powers on a tennis court.
At the time of writing, he has just won Miami for the fourth time and now he is preparing for the clay.
Rafael Nadal and Novak Djokovic are still going strong and Serena Williams will aim to be in peak condition for Wimbledon too.
These four all-conquering heroes, often described as the greatest of all time, playing Wimbledon singles together for the last time?
Can we say with any confidence that all four will play Wimbledon 2020? If we are not talking of the last great year for these legends, we are surely talking of the penultimate year.
And not just for that reason. Now we have genuine young superstars in the making, marvellous and quirky entertainers of the highest calibre.
The charisma of Alexander Zverev and Stefanos Tsitsipas, the showmanship of Denis Shapovalov and Felix Auger-Aliassime, the extraordinary enigma that is Naomi Osaka, the chaotic entertainer called Nick Kyrgios.
These young stars could fill Wimbledon many times over in their own right, without the help of the G.O.A.T.S.
But here is the beauty of Wimbledon 2019, here is the perfect balance of the generations.
We have them all. When it comes to talent and personalities, legends and young guns, we are truly blessed.
If you would like to find out more about The Wimbledon Debenture Experience please click here.
Browse the blog
---
Latest Posts
---